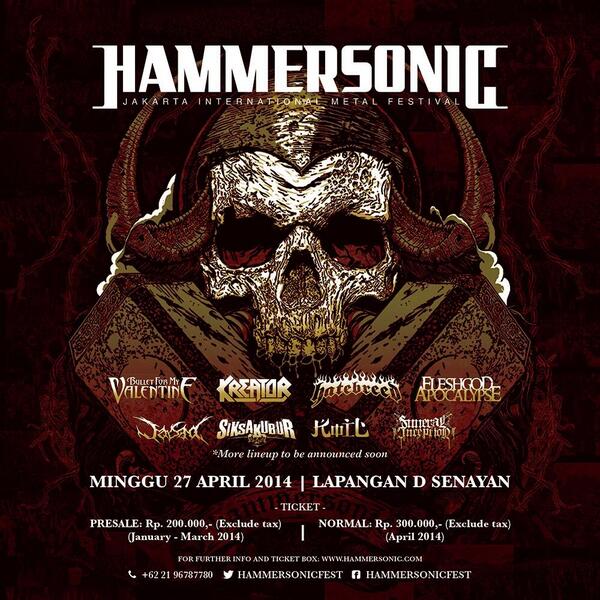 Hammersonic 2014

Hallo guys. Good morning ya.
Pagi ini kita mau share tentang musik. Tau dong yang namanya Hammersonic, konser Metal terbesar si-Indonesia. Bagi yang belum tahu bisa di baca nih di postingan kali ini. Bagi yang kurang suka musik Metal bisa mulai nyoba suka.
Banyak orang mungkin kurang suka sama musik metal, soalnya berisik banget. Tapi Digilovers gak semua musik metal gak enak di dengerin kok.
Nah Hammersonic sendiri adalah sebagian dari event-event besar di indonesia. Hammer sonic sendiri menjadi event Jakarta International Metal Festival yang paling besar di Indonesia. Gak cuma di Indonesia guys tapi The Biggest Metal Festival in South East Asia.
Dan kerennya lagi guys, Hammersonic tiap tahunnya selalu menghadirkan band-band metal besar dari luar negeri yang udah di tunggu-tunggu banget sama penggemarnya di Indonesia. Dan penontonnya yang dateng gak cuma dari Indonesia aja loh guys, dari luar negeri juga banyak banget. Pokoknya di jamin event nya bakalan keren banget guys. Dan kalian wajib dan kudu banget nonton.
Hammersonic sendiri baru mengadakan event 3 kali guys. Kalo dulu event metal paling di tunggu adalah Rock in Solo kalau sekarang udah pasti Hammersonic dong. Bapak Gubernur DKI Jakarta aja nonton guys gimana gak keren coba acaranya.
Kalau event pertamanya tahun 2012 kemarin mereka menghadirkan
Dan line-up untuk tahun 2013 nya adalah
Cradle of Filth, Obituary, Cannibal Corpse, Dying Fetus, As I Lay Dying, Destruction, Epica, Lock Up, Hour of Penance, Dyscarnate, Sensory Amusia, Ouroboros, Whoretopsy, Putrid Pile, Gorod, Saturnian, The Amenta, Advent Sorrow, Inanimacy, Voyager, Power Metal, Burgerkill, Dead Vertical, Sucker Head, Seringai, Hellcrust, Unremains, Kapital, Rezume, Edane, Outright, Revenge, Down For Life, Ethereal Sin, Sil Khannaz, Belligerent Intent, Kraken, Rising The Fall, & INDRA7.
Dan untuk yang tahun ini juga gak kalah keren loh guys, jadi wajib nonton.
Ini line-up pertama untuk guest star nya guys :
Bullet For My Valentine
Kreator
Hatebreed
Fleshgod Apocalypse
Jasad
Siksakubur
Koil
Funeral Inception
* More lineup to be announced soon
Tahu dong mana yang paling di tunggu-tunggu. Pastinya Bullet For My Valentine sana Fleshgod Apocalypse.
Nah untu
Ticket Price*
Presale (January - March 2014)
Rp. 200.000,-
Normal (April 2014)
Rp. 300.000,-
* Belum termasuk pajak pemerintah (10%)
bisa di dapetin di
TICKET TERSEDIA DI SELURUH INDOMARET SELURUH INDONESIA
Acaranya sendiri di selalu diadain bulan April guys
untuk tahun lalu, adaca diadain 2 hari berturut-turut pada 27-28 April 2013
untuk tahun ini masih tetap sama guys tanggal 27 April 2014 tapi cuma sehari aja.
untuk venuenya sendiri pastinya di
Lapangan D Senayan, Jakarta
For more info bisa klik
disini
atau di Fanpage
twitter
Hammersonic atau Fanpage
facebook
Hammersonic
Are you ready for Hammersonic 2014 guys? Let's RAWKKKK